---
Happening Now!
Robert is currently researching and writing a book
that should concern us all – Toxic Earth Energy
Entitled:
THE SILENT KILLER BELOW
A Dowser Tracks Geopathic Stress
---


"The love force is all-powerful, all-Cosmic, all-creative.
It exists within us and without. We use it and abuse it every day."
Quote from Cracking the Glass Darkly.
Robert Egby Books
Robert's latest book on Dowsing and Earth Energy...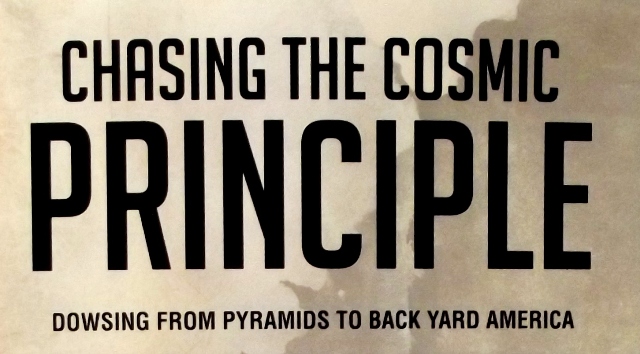 A different look at Dowsing: It takes the reader through the pyramids and leys of ancient Egypt, the obelisks of Turkey, Rome, Paris, London, New York and Washington, DC, the mystical Earth energies called geospirals along with leys found in northern New York, Pennsylvania, New Jersey and New York City. It reveals the Principle, a strange device that gives off relaxing and inspirational energies, and how it is not limited to pyramids and obelisks but other ordinary everyday items around us. For more information on this unique book and to buy Chasing the Cosmic Principle -- click here!




---




Non-fiction Self-help & Adventure Fiction
-- "A Different Experience in Reading" --








FICTION: THE NOVELS

FOR THE LOVE OF ROSE:
A Journey in Three Worlds

This dramatic and powerful love story follows three young people from a pastoral setting in
upstate New York into worlds they never dreamed existed.
Their dedicated love for each other is set in the middle to late 1930s
against the challenges of the Spanish Civil War.
Read more about "ROSE" here

Or:
BUY NOW PAPERBACK at Amazon or KINDLE

Or FROM THE AUTHOR





UNPLUGGED: The Return of the Fathers

If you've read about the gods of the Old Testament and the gods of
the Babylonian Tablets, subjects the Churches
and Academics refuse to talk about,
you'll love Robert Egby's new Science Fiction Adventure
Read more about this different thriller set in our distant past and future.

Or:
BUY NOW PAPERBACK or KINDLE

or FROM THE AUTHOR





CATACLYSM '79
The Day the River Stopped

Robert Egby's epic Canadian thriller set in the rugged, beautiful Fraser
Canyon in British Columbia. A 50 million year old mountain slumps
into Canada's third largest river and triggers a disaster for
the super luxury resort and six days of chaos for
a strange group of people comprising lovers, teenagers, journalists,
civil defence, politicians and resort moguls.
Read more about this thrilling saga.


Or:
BUY NOW PAPERBACK or KINDLE

Or FROM THE AUTHOR



NEW! SPECIAL FEATURE:





THE GUARDIANS OF STAVKA:

The Deadly Hunt for the Romanov Gold

Two Canadian hunters discover a bar of Russian gold. It triggers
an international frenzy in a story-line through Canada, Chile, Sydney (Aus),
Prague, San Francisco, northern Russia and Gori, Georgia,
the birthplace of Joseph Stalin.
Read more about this thrilling international saga.
Or:
BUY NOW PAPERBACK or KINDLE

Or FROM THE AUTHOR





PENTADAKTYLOS:

An epic novel of true love
in the last days of a British colony.

A British Army Officer's struggle to save the teenage son he's never met
now branded an EOKA terrorist. A thriller set during Cyprus' struggle
for independence in October 1958.
Read more about this historical Cyprus thriller.

BUY NOW ON KINDLE

Or FROM THE AUTHOR





THE NON-FICTION COLLECTION







HOLY DIRT, SACRED EARTH

A Dowser's Journey in New Mexico
Using divining forks Robert Egby seeks the magnetism,
the earth energy that draws celebrities to the Enchanted Land and
discovers what the Indian Ancestors knew all along.
Read more about this Cosmic Energy book


Or:
BUY NOW PAPERBACK or KINDLE

or FROM THE AUTHOR




CRACKING THE GLASS DARKLY

A new way of living is available for
you right now. This book is based on the powerful
and effective teachings of the ancients.
Read more on this great Self Help Book.

OR
BUY NOW PAPERBACK or KINDLE

Or FROM THE AUTHOR:





INSIGHTS: THE HEALING PATHS
OF THE RADICAL SPIRITUALIST

This book takes healing to the radical limits, full of colorful
and dramatic anecdotes, case histories and development exercises.
Read more on this Award Winning Book.

OR

BUY NOW PAPERBACK or KINDLE

Or FROM THE AUTHOR:





THE QUEST OF THE RADICAL SPIRITUALIST

The Journey Home Through Meditation, Metaphysics,
Sacred Energies, Spirits and the Universal Mind.
Read more on this Award Winning Book


Or:
BUY NOW PAPERBACK or KINDLE

Or FROM THE AUTHOR:



AUTOBIOGRAPHY




KINGS, KILLERS AND KINKS IN THE COSMOS
Treading Softly With Angels Among Minefields

Higher Awareness teacher and author Robert Egby's strange
and exciting autobiography stretches across almost
eight decades and four continents.
Read more on this personal autobiography.
Or: BUY NOW PAPERBACK or KINDLE

Or FROM THE AUTHOR:






PRINTED BOOK LOVERS OPPORTUNITY!!!
BUY DIRECT with FREE Shipping
from Robert Egby Books at Three Mile Point Publishing
through your Credit Card at Paypal.





Each book is available either through Amazon.com (U.S) or
Amazon.co.uk (U.K.) from the individual webpage.
Robert's books are also available with Free shipping at
the Book Depository in Europe. Thanks.

Please note: All ten of Robert Egby's books
are also available on Kindle E-book readers.
Robert Egby's Ebooks in the U.S.
Robert's Books on Kindle UK


PLEASE NOTE: Due to the high costs of shipping overseas we can only accept orders from within the United States. For Canada and international orders please check our books at Amazon or Robert Egby at The Book Depository or call your local bookstore.








Three Mile Point Publishing

13 Wynwood Drive
Pemberton, New Jersey, 08068
609-351-5878
Or: robert.egby@hotmail.com





Many Thanks!!!













BLOG: Robert's Notebook





BLOG: Dowsing: Robert's Earth Energy Watch





SPAN: Small Publishers Association of North America

The Independent Book Publishers Association











OTHER LINKS THAT MAY HELP YOU





Webotopia B2B Directory









Free Website Directory














Search Engine Optimization and Free Submission