Robert Egby's latest dramatic romance from the
age of innocents while the world prepared for war. Spain 1937.
FOR THE LOVE OF ROSE
A Journey in Three Worlds
"A story rich in history, love, spiritualism, action,and a bit of mystery"
"Such a beautiful love story!"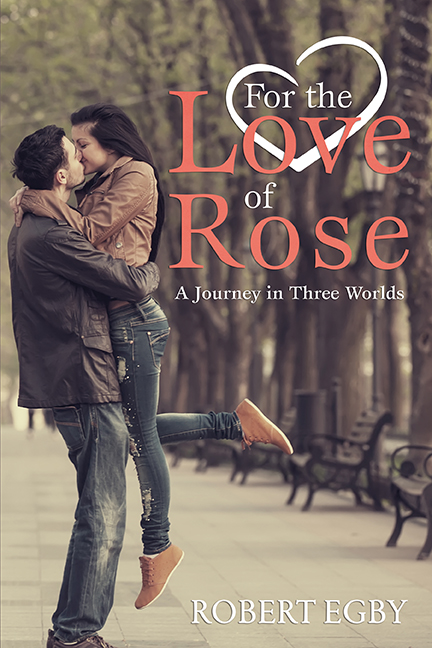 Frank Barbury is the bright and outgoing 17 year-old son of an upstate New York dairy farmer opposed to guns, war and killing. Frank's ambition is a career in locomotives… Rose Gerrard, beautiful 22 year-old sharp-tongued artist from Long Island upper classes is commissioned to create paintings for the 1939 World's Fair in New York.

They meet dramatically at the mystical old stone railway bridge at Three Mile Bay, New York and fall deeply in love. Jake Barbury, a couple of years younger than Frank, envies his older brother and watches as a simple but deadly chain of events splits up the lovers and seduces each one to experience grueling and terrifying experiences in Spain's bloody Civil War.

When they find each other amidst the rigors of war and terror bombings their survival is a test of true love that exists beyond our physical world. This dramatic love story is set in real places and events in the 1936-1940 years and it is Jake who finally discovers he is his brother's keeper.



Title: FOR THE LOVE OF ROSE: A Journey in Three Worlds
Author: Robert Egby
ISBN: 978-0-9848664-5-8
Pages: 240 (print) 280 (Kindle)
Publisher: Three Mile Point Publishing
Distributor: LSI/Ingram



Kindle US and Kindle UK






Please tell all your friends about this book:



"Eskerrik asko!" That's "Thank you" in Basque.





AUTHOR SIGNED BOOKS PLUS FAST DELIVERY: Each of Robert's books are available signed especially for you by ordering through Paypal. In the instructions explain for whom you wish the book or books signed. Each book is $12.99 with FREE shipping in the US and Canada . Most orders are mailed the same day as they are received. Thanks.









OR....








REVIEWS: What our readers say:

"Brilliantly written!"
Just finished "For the Love of Rose", a brilliantly written love story of two young people , one a simple farm boy, the other a well bred young lady, who inadvertently became involved in a bloody civil war in another country. This book will keep you captivated with its twists and turns and ultimate ending. Well worth reading! I thoroughly enjoyed it. Betty M. Williams

"Such a beautiful love story!"
For the Love of Rose is such a beautiful love story with many events that will keep you thirsting for the next chapter and then the next. It will elicit so many emotions. Robert Egby, a true historian, writes a novel which can take the reader around the globe with such geographic expertise you feel like you are there. I especially loved that there are locations in this novel that I am familiar with in Upstate NY. You will love this book! S.L. Smith.

"A story rich in history, love, spiritualism, action,and a bit of mystery"
For the Love of Rose by Robert Egby is set in the early 19th century and spans the quiet little town of Three Mile Bay, NY all the way to civil war torn Spain and back again. I enjoy historical fiction and enjoyed learning of the events of the time as the story unfolded. It struck me yet again how fragile life is as we know it, and how brutal we can be to each other when power and politics come into play. Still, in the midst of the war, young love blossomed and endured, past its tragic end in the physical to the spiritual world where it continued. If you enjoy a story rich in history, love, spiritualism, action,and a bit of mystery, I recommend you read For the Love of Rose. Val Silver: Author






Visitors who have come to this page:



Many thanks for coming this way!!



SEO Services & ToolsSubmit Express